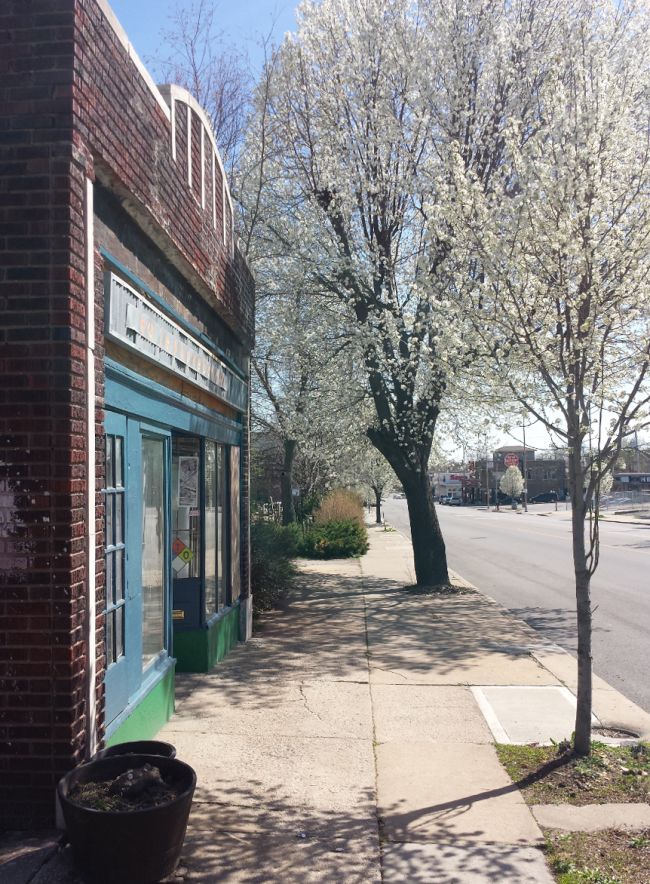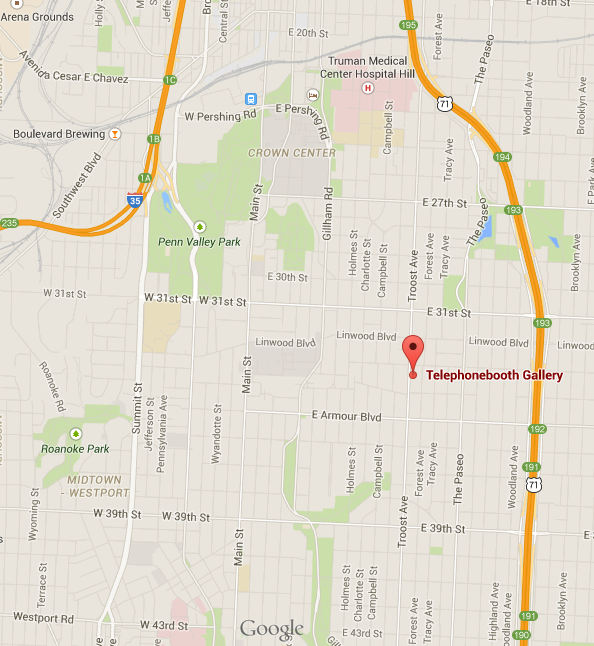 Location, hours and contact
Telephonebooth® Gallery
3319 Troost
Kansas City, MO
64109
Office hours: Saturdays 12-5pm
Available by appointment most days of the week,
please call or email
Tim S. Brown, 816-582-9812
Since 2002 Telephonebooth Gallery has been located in Midtown / North Hyde Park section of Kansas City, Missouri, midway between the Nelson Atkins and Crown Center.
The busiest midtown location, Costco is just a few blocks West.
Background
Telephonebooth is a very small art gallery in a small midwestern town that for 20 years has consistently maintained a program driven by quality and that specifically works with contemporary artists.
The goal of the open program is to cultivate and develop smart, engaged, quality emerging and mid-career artists from around the world.
Telephonebooth has most often premiered artists from outside the standard polished production output method. These are the artists willing to ask tough questions, have less pretty answers, but also have determination, vision and perseverance.
A track record of quality is demonstrated in the large number of Telephonebooth premiering artists that now show at blue chip galleries across the US and EU.
History
Tim S. Brown studied Fine Art and English at Carnegie Mellon University, Pittsburgh, Pennsylvania, USA.
Primarily studied with Sam Gilliam and Conrad Atkinson. Also Richard Schoenwald and Ronald Judy in Humanities Department.
Graduated Bachelor Fine Arts in 1992, moved back to Kansas City 1993.
At that time there were a large number of artist-run galley spaces and many artists were working in the affordable loft spaces in the Crossroads and West Bottoms.
There were also more retail and commercial type galleries starting up.
Telephonebooth gallery and project space started in the stairwell of the Opie Brush Building in Leedytown / Crossroads warehouse at 2009 Baltimore in November 1995.
During the late 90's the Crossroads gallery scene was overtaken by the condo scene and all of the artist-run gallery scene got schooled.
The tax abatements went to the condo investors and the offsets went onto the galleries. Most of the gallery scene was blown to the four winds.
In 2000 Telephonebooth moved briefly to the semi-condo scene a few blocks north at 18th and Wyandotte.
At that even smaller location a number of outstanding shows were produced while the gallerist Tim S. Brown concurrently developed the micro flat project titled "Hong Kong Apartment". Much of Tim's work in paper architecture can be found at Transmodern Associates.
In 2002 Telephonebooth escaped the semi-condo scene and relocated to 3319 Troost.
Since that time the gallery has continued to move forward with numerous successful solo and group shows as well as other art related projects including trade shows in Chicago and L.A., editions, publications, installations, collections advisement, etc.
Artist applications to the program, please see the applications page