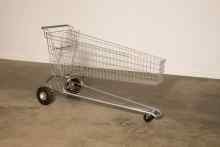 Showing in group shows can be tricky, if the curator has an agenda, critics might not always be so obliging.
Its that problem with doing and saying.
The write up the KC Star was not the best kind of promotion for this vehicle.
Review by critic ELISABETH KIRSCH for Kansas City Star, May 14th, 2011
deployed the method of faint praise with mention of glaring omissions,
her conclusion:
"Once again, what isn't here detracts from what is. Only four of the 25 Kansas City artists represented here are women.
news