Current Show, up thru March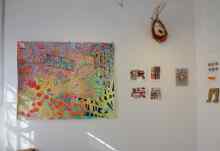 Artists from Kansas City and across the US send art for the annual Winter season group show.
Prints, drawings on paper, paintings, collages of fabric on paper as well as alternative constructions made from recycled plastic and twigs and canvas.
This unthemed recent work studio preview.
exhibitions