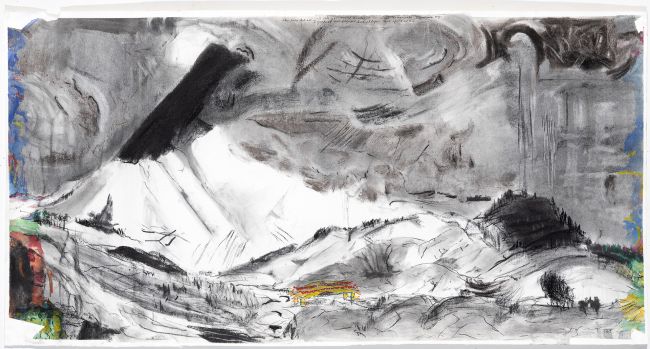 2020 Fall Season Shows,
November 2020 - February 2021
Russell Ferguson, Recent Landscapes
Natalie Beer, "Amen"
Sean Semones, "sensitives not long for this"
All shows on view.
Covid rules and by appointment.
Appointments available Saturdays 9am - 5pm
Art available for purchase on gallery website.
Preview Saturday Nov. 7th 12-5pm, need mask and contact info.
Questions / Appointments tim@telephoneboothgallery.com
20-21 Bakker Brown Studio samples and preview,
jackets and outerwear, denim and waxed cotton, all sizes, made to measure by appointment
Hope all is well, stay safe.
Best,
Tim S. Brown, Kansas City
Telephonebooth® Gallery
3319 Troost KCMO 64109 816.582.9812
Artists:
Gallery Hours for this show
Repeats every week every Saturday until Sat Jul 31 2021.
Thursday, October 1, 2020 - 12:00pm

to

Saturday, July 31, 2021 - 12:00pm
Saturday, October 3, 2020 - 12:00pm

to

Monday, August 2, 2021 - 12:00pm
Saturday, October 10, 2020 - 12:00pm

to

Monday, August 9, 2021 - 12:00pm
Saturday, October 17, 2020 - 12:00pm

to

Monday, August 16, 2021 - 12:00pm
Saturday, October 24, 2020 - 12:00pm

to

Monday, August 23, 2021 - 12:00pm
Saturday, October 31, 2020 - 12:00pm

to

Monday, August 30, 2021 - 12:00pm
Saturday, November 7, 2020 - 12:00pm

to

Monday, September 6, 2021 - 1:00pm
Saturday, November 14, 2020 - 12:00pm

to

Monday, September 13, 2021 - 1:00pm
Saturday, November 21, 2020 - 12:00pm

to

Monday, September 20, 2021 - 1:00pm
Saturday, November 28, 2020 - 12:00pm

to

Monday, September 27, 2021 - 1:00pm
Saturday, December 5, 2020 - 12:00pm

to

Monday, October 4, 2021 - 1:00pm
Saturday, December 12, 2020 - 12:00pm

to

Monday, October 11, 2021 - 1:00pm
Saturday, December 19, 2020 - 12:00pm

to

Monday, October 18, 2021 - 1:00pm
Saturday, December 26, 2020 - 12:00pm

to

Monday, October 25, 2021 - 1:00pm
Saturday, January 2, 2021 - 12:00pm

to

Monday, November 1, 2021 - 1:00pm
Saturday, January 9, 2021 - 12:00pm

to

Monday, November 8, 2021 - 12:00pm
Saturday, January 16, 2021 - 12:00pm

to

Monday, November 15, 2021 - 12:00pm
Saturday, January 23, 2021 - 12:00pm

to

Monday, November 22, 2021 - 12:00pm
Saturday, January 30, 2021 - 12:00pm

to

Monday, November 29, 2021 - 12:00pm
Saturday, February 6, 2021 - 12:00pm

to

Monday, December 6, 2021 - 12:00pm
Saturday, February 13, 2021 - 12:00pm

to

Monday, December 13, 2021 - 12:00pm
Saturday, February 20, 2021 - 12:00pm

to

Monday, December 20, 2021 - 12:00pm
Saturday, February 27, 2021 - 12:00pm

to

Monday, December 27, 2021 - 12:00pm
Saturday, March 6, 2021 - 12:00pm

to

Monday, January 3, 2022 - 12:00pm
Saturday, March 13, 2021 - 12:00pm

to

Monday, January 10, 2022 - 12:00pm
Saturday, March 20, 2021 - 12:00pm

to

Monday, January 17, 2022 - 11:00am
Saturday, March 27, 2021 - 12:00pm

to

Monday, January 24, 2022 - 11:00am
Saturday, April 3, 2021 - 12:00pm

to

Monday, January 31, 2022 - 11:00am
Saturday, April 10, 2021 - 12:00pm

to

Monday, February 7, 2022 - 11:00am
Saturday, April 17, 2021 - 12:00pm

to

Monday, February 14, 2022 - 11:00am
Saturday, April 24, 2021 - 12:00pm

to

Monday, February 21, 2022 - 11:00am
Saturday, May 1, 2021 - 12:00pm

to

Monday, February 28, 2022 - 11:00am
Saturday, May 8, 2021 - 12:00pm

to

Monday, March 7, 2022 - 11:00am
Saturday, May 15, 2021 - 12:00pm

to

Monday, March 14, 2022 - 12:00pm
Saturday, May 22, 2021 - 12:00pm

to

Monday, March 21, 2022 - 12:00pm
Saturday, May 29, 2021 - 12:00pm

to

Monday, March 28, 2022 - 12:00pm
Saturday, June 5, 2021 - 12:00pm

to

Monday, April 4, 2022 - 12:00pm
Saturday, June 12, 2021 - 12:00pm

to

Monday, April 11, 2022 - 12:00pm
Saturday, June 19, 2021 - 12:00pm

to

Monday, April 18, 2022 - 12:00pm
Saturday, June 26, 2021 - 12:00pm

to

Monday, April 25, 2022 - 12:00pm
Saturday, July 3, 2021 - 12:00pm

to

Monday, May 2, 2022 - 12:00pm
Saturday, July 10, 2021 - 12:00pm

to

Monday, May 9, 2022 - 12:00pm
Saturday, July 17, 2021 - 12:00pm

to

Monday, May 16, 2022 - 12:00pm
Saturday, July 24, 2021 - 12:00pm

to

Monday, May 23, 2022 - 12:00pm
Saturday, July 31, 2021 - 12:00pm

to

Monday, May 30, 2022 - 12:00pm
starts
Thursday, October 1, 2020 - 12:00pm
ends
Saturday, July 31, 2021 - 12:00pm