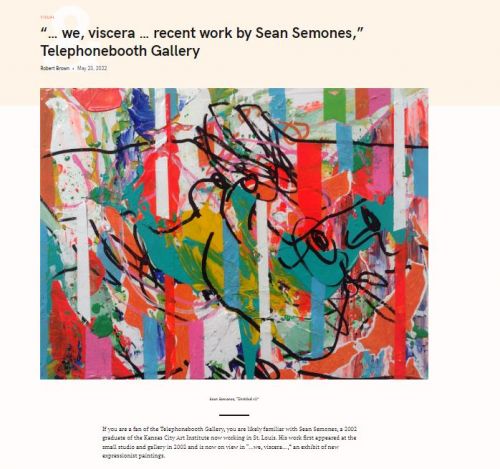 There has been positive local and national response to Sean Semones and good value with accessible prices.
For the first time at Telephonebooth, each painting in the show available for purchase online via the gallery shopping cart at
https://telephoneboothgallery.com/flatfiles .
A complimentary review of the show by Robert Brown published May 23,
https://kcstudio.org/we-viscera-recent-work-by-sean-semones-telephoneboo...
Paintings sold from the show will be mailing out before end of show if you would like to see the complete installation
would recommend viewing either Friday June 10 or Saturday June 11, available 10-5pm by appointment.
Neighborhood events,
if you are out and about early next weekend the Hyde Park Neighborhood yard sale is Saturday June 11, 8am - 3pm
here is the map:
https://drive.google.com/file/d/17ZW1crBnWBKOK62uY_-EuKIEEDZY7WR0/view
Gallery hours through June, also available Fri / Sat June 17 & 18,
out of office June 25th.
(June 25th Bakker Brown neon full zip spring jackets at KC Museum craft fair, free entry
https://kansascitymuseum.org/ )
Best
Tim B.
By appointment
Fridays 10-5pm
Saturdays 10-5pm
816-582-9812
covid policy still in effect
Telephonebooth Gallery
3319 Troost KCMO 64109
Newsletter