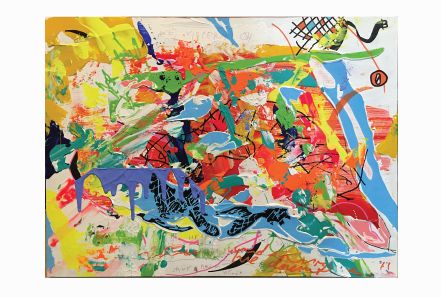 Showing May 2022:
… we, viscera ...
recent work by
Sean Semones
Opening: Saturday, May 7th, 10am - 4pm
Friday Preview by appointment
May 6th, 4pm - 6pm
gallery hours:
Fridays & Saturdays by appt
816-582-9812
10-5pm
Telephonebooth is proud to bring to Kansas City the 11th appearance of Sean Semones since his first work shown at the gallery in 2003. Sean is a 2002 graduate of the Kansas City Art Institute Printmaking Dept, currently working in St. Louis. Over the past 20 years Sean has been included in numerous shows around Kansas City including the MOMO gallery, Leedy Voulkos, Urban Culture Project, Paragraph and H.R. Block Artspace.
Sean has always had a painterly process and consistently followed that process as a way to work thru content. While his statements are often poetic and abstract there is also a technical poetics to his work based on color, form, line interweaving with the narrative questions of his daily life.
I have seen Sean's studio process for the last twenty years generally the color palette changes about every 18-26 months. Currently the colors are brighter and generally of a lighter quality. I would describe his work as idiosyncratic abstraction of mark making in historical relation to Frankenthaler or Twombly but with dense layers and his own unique set of personal narrative figures.
A recent quote from Sean helps explain this process and content:
"Working on wood panels, there are beginning layers ranging from washes, thick palette knife paint layers, as well as ink and graphite sketching. More is added to give depth, some layers partially scraped away or eroded revealing texture, and the compounding work is fractured and then drawn together again to make a harmonious or discordant whole. Ink drawing of plants, formations, figures, and color fields further add to the paintings. Bodies and subjects, actions and objects, all fluctuating to reveal the seemingly infinite possibilities of the world."
We look forward to seeing you over the course of the show in small groups and by appointment.
Tim S. Brown, Kansas City
By appointment
Fridays 10-5pm
Saturday 10-5pm
816-582-9812
covid policy still in effect
commissions flatfile, samples rack and aromatic imports
also by appointment
Telephonebooth Gallery
3319 Troost KCMO 64109
tim@telephoneboothgallery.com
Newsletter